Things to do in Samut Sakhon
Samut Sakhon (city of sea and rivers) is located southwest of Bangkok at the mouth of the Tha Chin River to the Gulf of Thailand. With a 41.8 kilometer stretch of land next to the sea, the province is well-known for its fishing products and sea salt farms.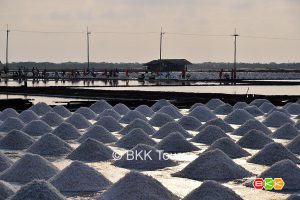 Samut Sakhon is a leading province for sea salt farming in Thailand. White fields with layers of salt remain after the sea water has evaporated. Salt farming is seasonal, usually best time is the dry season between February and May.