Things to do in Samut Songkhram
Samut Songkhram is Thailand's smallest province with an area of only 416 square kilometers.  However, the city of Mae Klong river which is 63 kilometers southwest of Bangkok has been feeding the capital Bangkok with its fish, rice, sugar, and vegetables. Fresh produce was traditionally sold at floating markets in the province.
A unique marketplace, the Mae Klong railway market is a complete fresh market located on the tracks of a railway. A train passes through eight times a day prompting vendors to quickly move their goods and fold their shades to make way.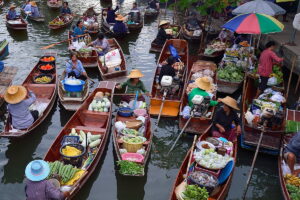 Tha Kha floating market is a beautiful market along a canal where local vendors sell their fresh produce from rowing boats, one of the last remaining traditional floating markets in Thailand. This market can be visited in the weekend.